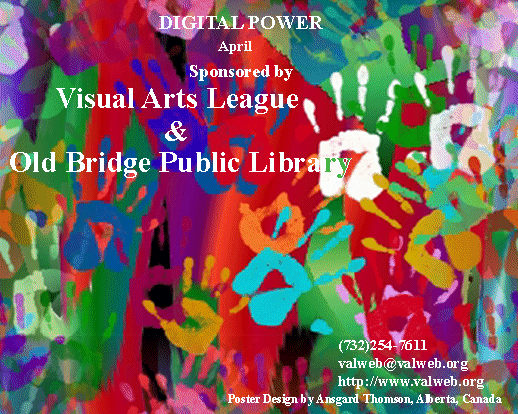 (Click to view thumbnails of work in show or representative works)
Old Bridge Public Library...DIGITAL Show.... The Month of April
Searching for Digital Artists!
This show will hang for the month of April and then move over to the University of Medicine and Dentistry-Robert Wood Johnson Medical School, Piscataway, NJ. We are building a Digital Power Show to draw attention to digital artists and the movers and shakers among them,
powering a movement.

To jump in on this show, send us no more than 5 jpeg images at 72 dpi E Mail valweb@valweb.org
If your work is selected, we will notify you. The pieces must be 36" X 40" or thereabout. We will dri-mount your piece. Then it becomes a part of the long term show.
This show will hang at UMDNJ between shows, long term. The artists name and URL will be displayed boldly by each piece. We are looking for local talent, all ages..Digital imagery..not scanned art work, but computer drawn and created art.
Fractals, Algorithmic, Enhanced Photography, 3D and Raytracing (732) 254-7611 Judy Wray

Visual Arts League