Letter to the Global Community

Visual Arts League (VAL)

is removing the boundaries around the classroom

expanding possibilities.

This January 2003

VAL has invited Henry Sunderland (sculptor / artist ) in Christchurch, NZ

for a merging of shows,

"The Great Pipe Dream, NZ" with "PIPE DREAMS, NJ"

at the Cork Gallery Jan 9-21.

Seven Schools in New Zealand are sending pipe sculptures.

Raising Funds: levitate the Pipes HELP!

In May 2003,

VAL is welcoming the work of 100 artists from European countries

curated by Jean Pierre Gantois, Benac, France.

A painting we did (below)

with 19 little 4 yr olds is now a permanent installation

at the

South Brunswick Public Library Children's Room, South Brunswick, NJ

along with the book where the children's piece is featured.

"The World Healing Book" and "The Book of Hope"

HELP

a poet/artist in Iceland is affecting children here!

(The Dalai Lama and Lawrence Ferlenghetti are in the same book.)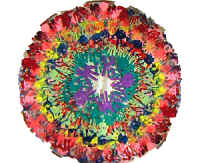 Thinking globally, working locally enlarges our capabilities.

Very large endeavors can be levitated easily by many people,

and one thing leads to another.

When encouraging creativity in our communities,

there is NO competition..

we are all in this together.

We can send out a message of warmth

friendliness

humor

and good will via art.

Your help is always welcome in whatever form.

VAL Projects leap boundaries however we can.

Money is needed to support the arts,

but it is not only money we build with.

We put art to work.

If you clic on the links in the body of this letter,

you can send help to artists in New Zealand

and to Iceland

who are working towards world peace via the arts.

Peace and good will begin with us,

in each of our homes in all of our relationships.

Pipe Dreams begins a dream together,

reaching higher than where we are at.

Sincerely,

Judith Wray, President VAL




Our federal ID number is 52-1752838
We are a non-profit tax exempt charitable arts organization
and are able to give
receipts to organizations making donations for tax purposes.

Donations can be sent to:


Visual Arts League (VAL)

1007 Old Bridge Tpk.

East Brunswick, NJ 08816

U.S.A.