The Transparent Flower Show! yr. 2001
Began at
Mail Boxes Etc., Route 18 South, East Brunswick NJ
Where has it gone!
University of Medicine and Dentistry, Newark, NJ
Old Bridge Public Library, NJ
South River Public Library
Metuchen Public Library
The Cork Gallery, Lincoln Center, NY
The theme is floral in feeling. The medium is a mixture of digital and scanned art works, printed on transparencies or paper. Transparent, translucent to opaque.
The project began at Mail Boxes Etc in East Brunswick on a 12 ft square window. Sheila Hernish, President of the Suburban Artist's League, and seniors from Sunrise Assisted Living on Summerhill Rd, East Brunswick, NJ, eagerly jumped in on the project. Thirteen Sixth graders at Joyce Kilmer School, Milltown created flowers.
---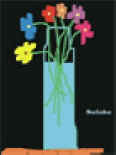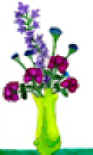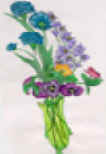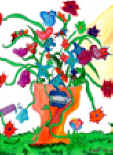 ---
Artists are sending digital images and adding to the show...images from Canada, Washington State and Wisconsin and the Lincoln Roosevelt School in Succusunna, NJ sent three floral pieces by attached image/e-mail from their sixth graders. This is thinking globally and working locally in action!