Laszlo Krisch left ( Judy Wray taking the photo!)
at home with VAL
Marrianne Muggeridge and Dale Copeland, Artists from Taranaki New Zealand
Apple TART
click the apple to visit the artists!
November 30 to December 12th.
Reception Saturday, December 2, from 4:30-6:00 pm
The Virtual TART meets the big apple! The 32 artists from Taranaki in New Zealand whose art is shown on the Vitual TART Internet site at http://virtual.tart.co.nz (tart as in Taranaki ART, (sorry if that's a dissapointment), have got an exhibition at the Cork Gallery, Avery Fisher Hall. Lincoln Center, NY.
These well-established artists will show mostly paintings but also assemblages, weaving, photographic work and ceramic panels.Two of the artists - Dale Copeland and Marianne Muggeridge - accompany the artwork and will be at the exhibition to talk about the art and artists, and to show even more of the art from this rural province of New Zealand via CD-ROM.
Much of the artwork in this large exhibition will be for sale. With the current exchange rate this is an excellent time for American collectors.
* * *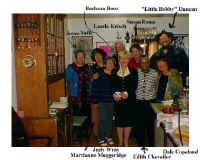 Dinner at Edith & Bob Chevalier's home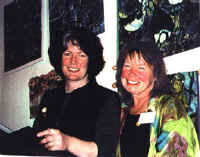 Marrianne and Dale