The VISIONS of 2000 Art Showcase R.W.J.M.S.-U.M.D.N.J.,

675 W. Hoes Lane, Piscataway, NJ

September 18-December 31, 2000

You are about to step into a new world. A sanctuary filled with colors and contrasting emotions. A land of vision in a brave new world. Welcome to RWJMS-UMDNJ student lounge and welcome into the VISIONS of 2000 Art Showcase!

After you open the magnetically sealed thick glass doors, you will feel a rush of air shoot through you as if a wave of fresh atmosphere enshrouded your body. You have entered the student lounge and realize it's four cornered concrete walls support works so strangely attractive, your minds eye is drawn to take a look!

As you look up to the left, you will find windows of colorful art hanging from tall, stone-gray concrete walls. The following visions are the tales of emotion from graphic artist, Ed Fillmore, a native illustrator living in mid-New Jersey. Ed has been a free lance artist for over 10 years. He has adapted to the juggernaught of technology as he paints his art with pixel powered paint brush! With all the various styles of art he has created for us to see, it seems like the artist revolves with his ever changing emotions, from the joy of love to the baffle of pain. All who look into the heart of Ed's art can enjoy and then connect into the emotions of Ed Fillmore!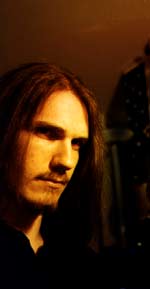 Above those framed windows of fantasy..a visual shock! Portrait paintings as large as doors..Musicians of the past and present playing their hearts out on the stages they made famous. In the wild form of acrylic paint, the colorful hues look as if you needed a car battery to plug them in as they almost glow through the night! The man who created them is Phill T. Baker, the Rock & Roll Painter! A central Jersey artist. This artist always makes a living with a brush in his hand. Phill has listened to music for years and believes in paying tribute to the musicians in the form of portraiture and collage. His life is so enriched by music, it flows through his hands into his paintings. Phill T. Baker! Come on over and listen to the paintings!