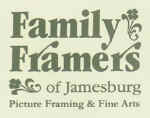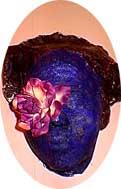 clic!

Opening Costume Party, Oct. 11

Sat. October 11, 2003, 6-9

Costumes and masks encouraged, wine, cheese,
party foods served. Participants may bring food or drink as well.

******************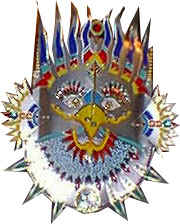 The Eagle Mask of BALAMKU
by Little Bob Duncan
"The Mask Show, Tomaso, Little Bobby Duncan, and Friends"
@
Family Framers of Jamesburg
and The Studio for Music and Art.
Family Framers is welcoming all manner of
masks. paintings, photos, collages, sculptures of masks for display and
sale.
Show begins Oct. 1 to Oct. 31. Contact must be made to Family
Framers no later than 9 /25.
Items for display and sale must be in Family
Framers by 9/30.
40%/60% pay out...40% Family Framers, 60% artist.
All
artists welcome.
Contact us at 732-605-7900, or 732-605-0242,
or email,
familyframers@earthlink.net.
Shop hours: mon./fri. 10-6, sat.10-5
Shop and
studio located at 15 E. Railroad Ave., Jamesburg NJ,
(next to Jamesburg Post Office)

Directions: You can reach Jamesburg by Rt.#130, Rt.#1, NJ turnpike, ex.8A.
When getting to shop/studio come into parking yard.

Oct. 12, ART/ANTIQUE FESTIVAL and flea market, in parking yard, 12noon-5pm.
$25 per 15x12 space, must bring own table of tent. Room for 30
artists/vendors. call same numbers as above, same email.
Opening Costume Party, Oct. 11 : Costumes and masks encouraged, wine, cheese,
party foods served. Participants may bring food or drink as well.

ALSO NEEDED FOR DECEMER HOLIDAYS FOR SALE, all manner of craft items,
especially Victorian, Christmas or Hannukah items or repros, jewelery, small
prints, small art items. All items needed asap.
December Opening Show,
Sun,
Dec. 7, 2-5PM,
invataional show, "Mother and Child". Our shop'studio theme
is Mary Cassat "Mother and Child". Large Christian, mostly Italian, and
Jewish clientel.
NEEDED: all interprations of mother and child theme,
painting, collage, photo, sculpture for sale and display.
All contact must
be made by 11/15, all art must be in 11/30.