Digital designs printed on canvas sleeves and slipped over PVC pipes.
(Left to right) Catherine Yakovina, St. Petersburg, Russia; Ansgard Thomson, Canada; Warren Furman (top red pipe), Pennsylvania; Dima Yakovina, Russia; Ursula Freer, New Mexico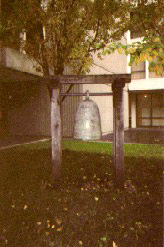 This cast bronze bell was recently installed to the left of the main entrance at UMDNJ-RWJMS. It seems fitting to let it be the entrance way, the portal to an avenue of the Pipe Dream show. So strike the bell with your mouse and enter!