"The Art Portals"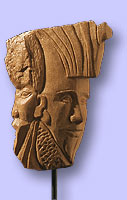 at the Cork Gallery, Avery Fisher Hall, Lincoln Center, New York., NY.
Spring 2003 in New York will be sunny, with the exhibition of a beautiful French Italian painting and sculpture show :
"The Art Portals"
Contact: e-mail at: M. Gantois e-mail at: VAL
This cultural event will take place May 2 to 12, 2003
The opening reception for "The Art Portals " is May 3, Saturday, 4:30-6:30 pm, 2003
Work can be viewed 10 am to Hall Closing Mon. through Saturday
Sunday 12 noon to Hall Closing at
the Cork Gallery, Lincoln Center, 65th St & Broadway, New York., NY.
•
Sponsored by Visual Arts League (VAL) of New Jersey, and its President Ms Judith Wray.
It is the second edition of "The Art Portals" this year, organized by Messrs. Jean Pierre and Maxime Gantois, organizers of prestigious international cultural events.
Mr Jean Pierre Gantois, president of the association "Mouvance de l'Art", located in Ariege, France, and Mr Maxime Gantois, responsible of the enterprise "STAART" ( Foix 09) France, have worked hard with Ms Judith Wray to set in place this beautiful show.
Mr Giuliano Ottaviani, Italian Sculptor, and Mr Michel Bona, French painter, both internationally known artists, have accepted to be the Sponsor Artists of " The Art Portals ".