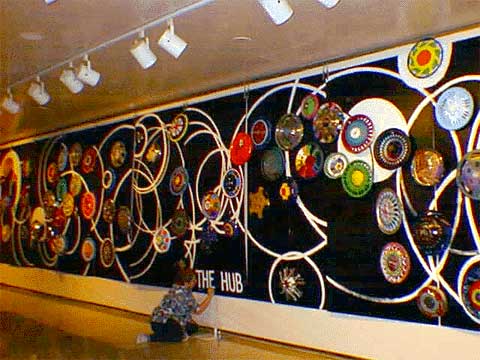 Sheila Barrera, (Florida) designed the background for the hubcap show. She heard about the project via the Internet. Her design has been reproduced in New Jersey on 60 ft. of board as the background for 150 painted hubcaps from all over the country.
See the virtual mural design in Florida. (You know how on a really hot day you can be driving along out in the country, and the sun is beating down, and way up ahead the road appears glassy and wobbly? Well, see what Sheila has done to the design!:
Original sketch

Sheila's tribute to Lincoln Center!

Real & Virtual HubCAPS
Virtual Hubcaps came in through e mail and snail mail for the "Hub-With Magnetic Connections" Show at Lincoln Center's Cork Gallery, downstairs from Avery Fisher Hall. The show ran December 3-15 and after that, moved on to the University of Medicine and Dentistry, Piscataway, N.J. There, the show doubled in size!!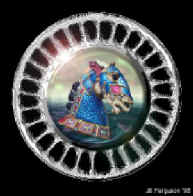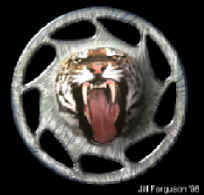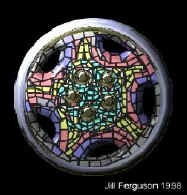 Jill Ferguson, Hatfield, Pa