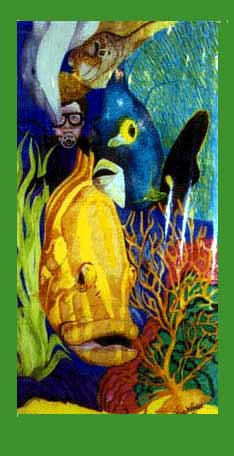 Nancy Speelman, Hillsborough, NJ
e-mail at: n.speelman@patmedia.net
Nancy Speelman is currently a Health Educator for the Tobacco Dependence Program of UMDNJ-School of Public Health. Prior to this position she worked as Addiction Counselor and Mental Health Specialist providing therapeutic art groups at the UMDNJ-University of Behavioral Health Care-Adolescent Day Treatment Program for 18 years. The Visual Arts League has helped her and her students leap walls into the real world. Her pieces can be seen here, along with other pieces that have a "healing theme" to them.

While working with the teens at the treatment program, she orchestrated community art projects by having each patient develop a small section of a larger community piece. Their artwork was exhibited at the Ocean Show and "EXPRESSIONISM-Teens Speaking Thru Their Art" at Lincoln Center. In addition, students would make a featured mural for Harmony Day at UMDNJ.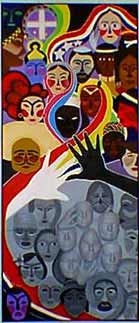 "Visions- God Gave Us Eyes To See"
---
"Visions-God Gave Us Eyes to See"
4"w X 8"h
Vinyl