6/8/02 History we make together

Hi Judith
Yes, I would be interested in joining forces at the Cork Gallery, Lincoln
Center and beyond------ JAN 2003
I still can't get over the SYNCHRONICITY with the pipe dreams and our
similar out look on creativity. It's GREAT!
I have attached a little more information about me---- I am also a
GNOMOLOGIST and I placed a Gnome on the SOUTH POLE in 1977.


Who can and who wants to define creativity?

At present I have a year off from teaching art, with a study grant,
I am doing a post graduate year at the SCHOOL OF DESIGN in Christchurch.
So it's playtime Hence the great pipe dream and a Kids book on creative
'make it's ' etc ...

I would like to think we could send over for JAN 2003 some pipe dream
sculptures.
Are you inviting us it would be great for the Kids and the Big kid [me]
I can certainly get PR media coverage for you ..ETC here
If it's a goer I NEED A formal invite from the Visual Arts League so we can
look at possibilities etc sponsorship --perhaps I could come over too...
Pipe Dreams can come true

What is this about about a link....to your site ? how do we do this....

Anyhow I Am full on at the moment with the Great Pipe Dream exhibition and
studies--- will feed you our progress on the exhibition and media etc as it
happens.. warmest regards for now
Henry
Have you got a garden gnome ??
********************************************************************************

11/6/02
12:22 AM, Judith Wray at valweb@valweb.org wrote:

Henry, the other day I put you into our on line newsletter. Open the
homepage and click on newsletter and I linked to the web page about the show and
created a page for one of the images you sent showing the pieces.

Judy

*******************************************************************************
6/12/02

Hi Judy and Laszlo
I think the formal letter from our Mayor GARY MOORE is a great idea
AT the moment I am studying hard or trying to for an ART HISTORY exam on
Tuesday-----so once I have nailed it on Tuesday I WILL BE back into it full
swing---also I have to go up the coast to KAIKOURA----where they do the
whale watching ---to judge a wearable art show with Suzanne ---Friday, Sat and
Sunday. I will go and see our Mayor after Tuesday and I KNOW HE WILL be
right behind it once the exhibition opens on Sunday, 30th of June--so
if you don't hear from me until Tuesday you will know why---

REGARDS to you both
Henry
***********************************************************************
7/18/02

Dear Judy

This is the sequel to Henry's meeting with the Mayor of Christchurch last
Friday re. transporting 'Pipe Dreams' (trees) to the U.S. as discussed.
Hopefully our council will help with funding etc.

Please forward details again of people in your part of the world whom our
Mayor may contact re. 'sister city' or other community/relationship
opportunities.
Thanks,

Dianne
pp Henry Sunderland


-----Original Message-----
From: Dianne Alpers
Sent: Thursday, 18 July 2002 21:00

Subject: Kidsfest Sculptures


Dear Garry

THE GREAT PIPE DREAM SCULPTURES
As a result of the Kidsfest Pipe Dream Exhibition in the Botanic
Gardens (just finished - great success), local children have been invited to
send some pipe sculptures to be exhibited in the Cork Gallery, Lincoln Center, N.Y.
9 -21, January 2003 and beyond.
OTHER ARTISTS CONTRIBUTING are from New Mexico, Vienna, Hungary, Japan and
Russia.

The aim is to send a sample of our children's sculptures, along with all
appropriate media coverage etc., to the Lincoln Center NY in time for the
exhibition opening in Jan.

Funding support is needed to transport 3 to 5 sculptures [approx 3 metres
high - PVC pipes are light] with appropriate personnel (2 max.) to install
the works and provide information, photos, video clips etc., giving an
overview of the project.

I envisage great PR for Christchurch, but most importantly a great
opportunity to 'show off' our kids and help them feel special and valued.
[We always hear about the BAD things kids do via the media, so time for a
change]!!

You said you had a mate who may be able to see or help with the freight to
New YORK, so ..................
ANY BRIGHT IDEAS AND/OR SOLID DOSH IN THE WAY OF

FUNDING WILL BE GRATEFULLY RECEIVED.

Please advise re. any way in which the Council, or your mate can
help.(contact details above).

[I have attached some photos of the kids' work-
22 schoolS contributed to the great pipe dream]

--just wait until next year!!

See you on the 5 AUG
Warmest regards
HENRY
********************************************************************************

7/ 29/02

Dear Judith,

It is great to see our Great Pipe Dream exhibition (Christchurch, New
Zealand) has found it's way onto a website, and an off shore one at that!
It was a fun event, inspired by that renown Gnomologist, Henry Sunderland
- he also drives a very odd "Art Car".

We (at Shirley Intermediate School) will store one of our pipe sculptures
for a possible inclusion in the New York exhibition.

Your site has been added to my list of favorites!).

Kind regards,
Bevan Freeman,
Art Teacher

*******************************************************************************
8/21/02

Hi, I am trying to find a contact for Judy Wray. I'm a New Zealand journalist writing about

New Zealands Great Pipe Dream and would like to speak to the artist or organizer responsible

for the New York end of the show. Your help would be much appreciated.

Thank you for your time

Vanessa Cook
*********************************************************************************************
9/26/02

Hi Judy,

Henry Sunderland has asked that I send you through
some pipe sculpture images from our exhibition in
July this year.

There are several images, but so I don't fill your inbox
up too fast I will send 3 through. Please let me know
if you would like anymore.

The exhibition was hugely successful for us, it was opened
on 30 June 2002 by the Deputy Prime Minister and ran
for two weeks in the playground of the Christchurch
Botanic Gardens.

Regards, Gillian


Gillian Walsh
TV2 KidsFest Coordinator
Christchurch City Council Leisure
******************************************************************************
9/10/02

2:05 AM, Judith Wray valweb@valweb.org wrote:
Henry, hello! I just returned from a week in Oklahoma to visit my sister
(first time in 12 years) January is fast approaching. What has happened
regarding our Mayor over here? We would like to hurry and move on this..Your
letter is something we both should see so one party knows what the other is
doing.

Things are crazy fast over here at this end too! We need to write to the NZ
cultural attache in New York at this end. I don't think you have sent us
written material beyond what is on the web, but I may be wrong about
that..just have not received anything in the mail. I may have been sent
something in doc form!! (If so, I have to track it down which folder it is
in!!

Judy

Visit ValWeb homepage at:
www.valweb.org
**********************************************************************************************************************
9/ 22/02
---- Original Message -----
From: "suzanne&henry" <henrysue@paradise.net.nz>
To: "Judith Wray" <valweb@valweb.org>
Cc: "Dianne Alpers" <d.alpers@clear.net.nz>
Sent: Sunday, 9/ 22/02 11:23 PM
Subject: THE PIPE DREAM EXHIBITION JAN 2003


Hi Judith
Hope all is well and your pipe dreams are coming true.

We have seven sculptures 2 to 3meters high from the great pipe dream nz
WISHING TO COME TO THE CORK GALLERY and beyond
Can they be accommodated at the gallery.????/

If we were to get the sculptures from New Zealand to NEW YORK AIRPORT
can you organize sponsorship etc to get them to the Cork Gallery and beyond

I am working on sponsorship to the get the sculptures air freighted to New York could $6000 plus.

I would also like to get to NY TO help install the works
What do you think would that help?

At the moment I am writing to our Prime Minister Helen Clarke seeking
support

Please let us know your thoughts on these matters
warmest regards Henry


**********************************************************************************************************************


Dear Judith

Sounds like you had a great holiday
Dianne Alpers is working on our Mayor for the letter to your Mayor
I will make sure she sends you a copy.
I have been working on funding this end and have a number things going in
the pipe line .
I have had a reply from our Prime Minister's Private secretary today
who said my letter has been placed before the Prime Minister for her
attention. I have a letter of support from Jim ANDERTON OUR Minister for
Economic Development.

I will be talking with the schools who want to send their pipe dream
sculptures this afternoon and I am going to suggest to them that they may
have to leave their sculpture in the USA if funds are not available for
their return I am sure this would help our dreams progress.
Regards
HENRY


| | | |
| --- | --- | --- |
| | | |
| | | Photography by Vance Stone <vstone@clear.net.nz> |
10/29/02

Hi Judith
Names of schools on the attachment
We will be taking digital photos of each work on Sat before packing
So will send to you the images with the school's name next to their one.
We will prepare additional information about them for the exhibitions. This
can be posted later.


fingers crossed! Henry


10/19/02

TEACHERS THAT DREAMED and ACTED
HENRY SUNDERLAND [BIG KID ] ME

henrysue@paradise.net.nz
TONY KING ART TEACHER

,

ALLEN VALE SCHOOL

,

Christchurch, NZ

BEVAN FREEMAN, ART TEACHER, SHIRLEY INTERMEDIATE

TOM BAKER, STUDENT, ST BEDES COLLEGE, Christchurch, NZ

KEN FRAME ART TEACHER

, MARION COLLEGE, Christchurch, NZ
RAEWYN TAYLOR ART TEACHER

, LINWOOD INTERMEDIATE

Christchurch, NZ

NATALIE JOHTSTON

, CHRISTCHURCH SOUTH INTERMEDIATE

Christchurch, NZ

SHONA KELLEHER, CASSEBROOK INTERMEDIATE

CHRISTCHURCH, NZ

*********************

19/10/02

2:10 AM, Judith Wray at valweb@valweb.org wrote:
Hi judith
It's a great morning here about 10 o'clock Sun Shining

I am meeting with the teachers of the eight pipe dreams to be sent on
Wednesday afternoon and we will work towards the anticipation of them
traveling on the 9th Nov, also working out packaging and custom clearances
etc will keep you informed on these matters. If for some reason they
can't travel on that date, we will be ready for other alternatives which are
being worked on just in case.
I hope you can be a little patient with us on these matters
The momentum and realization of these pipe dreams I feel are gaining more
support there and so many good people wishing for it to continue...

Working hard on these matters
Henry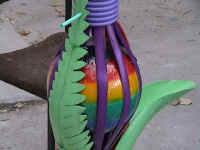 We have created 3000 announcements for

this show in three runs of printing..

to get all the names! Still printing, pipes keep coming